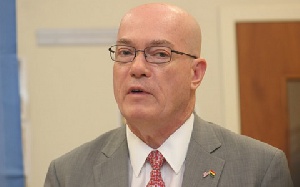 US Ambassador Robert Porter Jackson was told in a meeting with some Members of Parliament that the American authorities will need to treat Ghanaian deportees with respect and dignity, Assin South MP John Ntim Fordjour has disclosed.
Mr Jackson was invited to appear before the Foreign Affairs Committee of Parliament to among other other things, explain circumstances surrounding the deportation of some 63 Ghanaians from the US two weeks ago.

The deportees had claimed that they were maltreated and handcuffed on the flight to Accra. Some human rights activists condemned the US for keeping the deportees in shackles on a flight to Ghana. They also criticised US officials for treating the deportees in an inhumane manner.

On that basis, parliament invited Mr Jackson to provide explanation for that treatment, an invitation he honoured on Thursday June 22. Mr Jackson told the committee that such assertions were false.

"I flatly reject the idea that we treated people inhumanely. On the contrary I think we treated them as best as possible given the fact that they refused to leave the United States voluntarily," he said.
But speaking in an interview with Chief Jerry Forson, host of Ghana Yensom, on Accra100.5FM on Friday June 23, Mr Ntim, who is also a member of the Foreign Affairs Committee, said: "At the meeting with the US Ambassador we told him that they would need to treat the deportees with a human face.

"This is not the first time Ghanaians are being deported and so we pleaded that they should be treated with dignity."

He added: "We need to investigate the matter and find out the truth in the report that they were manhandled. If it is established that indeed they were maltreated, then we will move forward from there and take the necessary action against such acts. The rights of all Ghanaians must be protected."