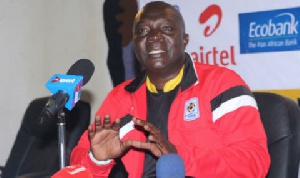 Despite their failure to reach the 2018 FIFA World Cup tournament, Ugandan coach Moses Basena says he is happy with how his men played against Ghana.
The penultimate Group E encounter failed to produce a winner as both sides played to a goalless draw on Saturday in Kampala.

Although the Uganda Cranes struggled to break down a resilient Black Stars team, Basena praised his team as both teams failed to qualify the the showpiece in Russia.

"We are a little bit crestfallen for drawing here in Namboole," Basena told reporters.
"But when you draw against a strong opponent like Ghana, you don't really lose hope and there are some positives we pick from the game.

"We are disappointed by the result but happy with how we worked especially myself as a coach.

"There are many people who doubted our ability but I am happy that we showed we can play against any team."