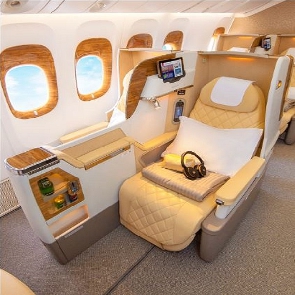 Airplanes, as a means of transport across borders have evolved since their inception by the Wright brothers in the early 1900s, to their commercialization in 1914.
Although on the high side, travelling by air is one of the fastest ways to travel overseas or to neighbouring countries.

While fares for commercial airplanes have evolved, there has been the introduction of classes also known as cabin classes.

There are four main classes of spaces in a commercial aircraft; Economy, Premium, Business, and First Class.

If you are a first-time air passenger, it is prudent to know the type of class you can afford to save yourself from any inconvenience. Cabin classes can also be upgraded. The prices for upgrades however vary among airline companies.

Below are the 4 different types of cabin classes on an aeroplane:

First Class
Luxury is what best describes this type of class. It is the most expensive and offers the best of services on an air carrier. It has very comfortable accommodations such as enough legroom, and more reclining seats, passengers have a variety of meal choices. There is also an in-flight entertainment, full bar service or bartender.

Sometimes referred to as a Class A, a passenger, depending on the airline, can have a 3-room suite with a living room, bedroom with a double bed and private bathroom with shower.

The First Class is designed such that no expense is spared to give the client their money's worth.

Passengers can't get upgraded any further than first class.


First-class suite II Photo Credit: Singapore Airlines

Business
The Business class is usually a combination of both first and Economy. This type is most often patronised by the executive class who have to take a quick dash for a business appointment or meeting. It is more affordable than First Class but more comfortable than the Economy or Premium Economy.

The seating spaces are not crowded. Seats can recline and even be converted into a flatbed. Passengers who opt for the class also enjoy a good amount of privacy. They get access to a full-course meal, a bar, entertainment and other premium services.

According to an article by cheapflights.com, "Pioneered by airlines like Pan Am and Qantas, Business class was born after deregulation of airlines when international first-class fares skyrocketed, discounts in the economy were common, and full-fare coach travellers were not happy."


Virgin Atlantic's Upper-Class cabin IIPhoto Credit: Virgin Atlantic

Premium Economy This is designed for those who want luxury but cannot afford the prices the First and Business Class offer. The Premium Class is slightly more comfortable than the Economy.

Also, depending on the airline, Premium economy seats are sometimes separated from other seats by partitions. It offers a greater variety of food choices and a bigger luggage allowance. Premium economy seats are often the better-rated seats on domestic flights.
Photo Credit: Delta

Economy

It is often recommended as the best when flying on a budget. The seats are narrow and do not necessarily offer enough leg space. The distance from one seat to another; whether in front or behind ranges from 30 inches to 34 inches.

This category is also called coach, standard or main cabin. seats. Some airline companies offer free snacks and beverages and in-flight entertainment systems such as movies and music.


Photo Credit: Emirates

Tip: It is advisable to book your flight ahead of time to get the best deals. Also, ask your booking agent what services you qualify for when you make your reservation.
FNOQ

Watch the latest edition of BizTech and Biz Headlines below: