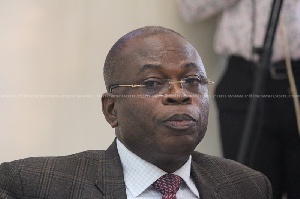 The Public Accounts Committee (PAC) has pleaded for a former Nkwanta South revenue superintendent whose salary has been embargoed for pocketing over GHS 25,000.
Hebedzi Ayetor failed to account for GHS 25,958.69 revenue he collected and his GHS 800 gross salary has been embargoed for the last 8 months. The Assembly instructed his bank to withhold his entire salary.

Appearing before the PAC in Ho on Thursday 10 May 2018, Chief Finance Officer for the Assembly, Ebenezer Afetorgbor, disclosed that the said officer indicted in the 2015 Auditor General's report has been demoted to a messenger.
But Chairman for PAC, James Klutse Avedzi, asked the finance officer to consider leaving a part of the culprit's salary to him for his upkeep. He explained that the current arrangement will push the said official to rather engage in more dubious activities to survive.

PAC is sitting in Ho to consider 2015, 2016 Auditor General's reports covering the Eastern and Volta regions facilitated by GIZ and USAID.