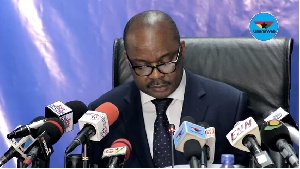 The Minority in Parliament has described the directive from the Bank of Ghana for audit firm, KPMG to takeover management of uniBank as an orchestrated move by the Finance Minister, Ken Ofori Atta to destroy businesses purportedly linked to the opposition National Democratic Congress (NDC).
The Central Bank, as regulators, has handed over managerial powers of uniBank to the audit firm, at least for the next six months, because the bank's "capital adequacy ratio (CAR) has fallen below 50% of the required minimum of 10% (i.e. below 5%)."

"Under section 108 of Act 930, the Official Administrator is authorized to exercise a variety of powers to rehabilitate and return the bank to regulatory compliance within a period of six months, at the end of which the bank will be returned to private ownership and management," a statement from the BoG said.

"The appointment by the Bank of Ghana of the official administrator is aimed at saving UniBank from imminent collapse. It will prevent potential losses to depositors and other creditors, and ensure that the financial condition of the bank does not create further risks for the entire financial system," it added.
But reacting to Bank of Ghana's decision in an interview, the Member of Parliament for Bolgatanga Central, Isaac Adongo said the Central Bank must not be used as a political tool to destroy the financial sector.

"Clearly by this announcement alone without any liquidity being pumped into uniBank you're encouraging customers of uniBank to run in on the bank and what will be the motive, the motive is to bring uniBank on its knees so that the owners of uniBank who are perceived to be NDC will lose their business, will lose whatever they have in there and Ken Ofori Atta will be the one happier for it. But at the end of the day, we cannot allow private businesses to collapse in this country under the altar of political expediency.

"So this orchestrated effort to any destroy businesses of any man who is related to the NDC will have to stop and we will fight as much as we can. Because we can't tolerate this kind of intransigence and Bank of Ghana should not be the hatchet man doing this job for the Minister of Finance and for the government. So Nana Akufo Addo sits up and protects Ghana businesses before you think of bringing in foreign investors, you cannot tell me that there's anyone at KPMG who can manage a bank better than a former Governor of the Bank of Ghana."