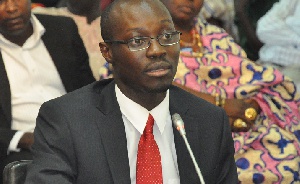 The Minority Spokesperson on Finance Cassiel Ato Forson has said the decision by the Bank of Ghana to handover the management of unibank to KPMG will trigger capital flight among indigenous banks.
The Central Bank, as regulators, has handed over managerial powers of uniBank to the audit firm, at least for the next six months, because the bank's "capital adequacy ratio (CAR) has fallen below 50% of the required minimum of 10% (i.e. below 5%)."

"Under section 108 of Act 930, the Official Administrator is authorized to exercise a variety of powers to rehabilitate and return the bank to regulatory compliance within a period of six months, at the end of which the bank will be returned to private ownership and management," a statement from the BoG said.

"The appointment by the Bank of Ghana of the official administrator is aimed at saving uniBank from imminent collapse. It will prevent potential losses to depositors and other creditors, and ensure that the financial condition of the bank does not create further risks for the entire financial system," it added.
Speaking to Starr News' Parliamentary correspondent Ibrahim Alhassan Wednesday, Mr. Forson said the decision by the Central bank is inimical to the local banks.

"unibank is the largest private indigenous bank in Ghana and you allow it to go? Now I have a big worry, my worry is that the Ghanaian banks; the indigenous banks, particularly the small ones, there is going to be capital flight, people are going to move their money from those banks because they are panicking that these banks are going to go down and so they want to move their money to the big banks.

"And so in effect, you are signaling that the financial sector belongs to the foreigners and our local companies are going to struggle and eventually fade away. I think the government could have done better," he said.