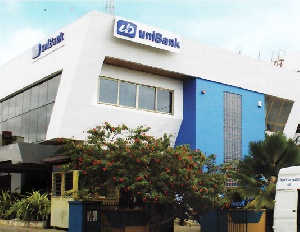 The Bank of Ghana has taken over Unibank. The Central Bank in the statement announcing the take over has revealed that Unibank attempted to take over the agriculture development Bank to shore itself up, as it was in a deep hole.
Even for that- the Central Bank was convinced- Unibank couldn't have saved itself, MYNEWSGH.com gleaned from the statement said, because "there are additional regulatory hurdles outside the control of the Bank of Ghana required to be cleared by UniBank before potentially realizing any value, if at all, from the said transaction, making it incapable of addressing the immediate capital and liquidity needs of the bank", the Governor told the press.

The Bank of Ghana also indicated that Unibank, in making that move, did not comply with the necessary laid down procedures as required by Act 930 for acquiring significant shares or exercising control by virtue of a transaction.

The Bank of Ghana has since appointed an administrator, KPMG, for the Unibank.

The Governor of the Bank of Ghana, Ernest Addison had this to say:
"More recently, the bank's [Unibank's] announcement of a purported pledge of ADB Bank shares in its favour by its shareholders to secure commitments for recapitalization, were deemed by the Bank of Ghana to be null and void as no prior approval had been obtained from the Bank of Ghana as required by Act 930 for acquiring significant shares in a bank or exercising other forms of control by virtue of any transaction." He said.

He said Bank of Ghana followed up to get copies of the deed of pledge but Unibank refused, or was unable to comply.

"A request by the Bank of Ghana to the bank to submit copies of the Deed of Pledge and underlying transactional documents were not heeded by uniBank, its shareholders, directors, or management.", he added.