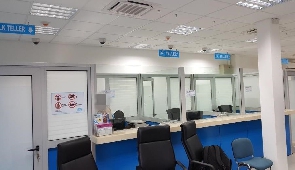 Universal Banks in the country have been admonished to prioritize investments into technology following the in consumer satisfaction for remote and digital banking.
This comes on the back of the release of the Chartered Institute of Marketing Ghana's (CIMG) 2022 customer Satisfaction Index Report, CIMG-CSI for the banking sector.

The report, which saw an overall improvement in the banking sector with 5 banks performing above the threshold as compared to only two banks in the 2021 report and an improvement in traditional banking however saw a dip in satisfaction of remote banking.

"For this year, we have seen an improvement where 5 banks met the threshold although the index went up by 3 digits to 98%," Head of the Technical Committee, Dr. Ireneus Gundona revealed.

"If you look at traditional banking overall the level service quality went up by 5%. However, we had a challenge when we come to remote and digital banking, the overall industry declined by 1%", he added.

"It is something the banks need to look at and improve technology and improve customer satisfaction when it comes to the digital and remote banking", Dr. Gundona concluded.
President of the Chartered Institute of Marketing, Dr. Daniel Kasser-Tee on his part admonished banks to use the report as a guide to improve their services.

"Consumers of this report, particularly the banks, must learn how to put the results to good and prudent use." he charged the banks

"They should juxtapose their performance in each area to the customer's indication of "how important" that particular dimension is to them. Such an exercise would reveal to them areas where they may be unnecessarily strong, and areas where they need to truly improve their performance. They may then see the need to restrategise, reallocate resources and channel their energies to more pressing areas", he added.

CEO of the Ghana Banking Association on his part assured the banks will utilize the findings to improve shortfalls in the customer service.