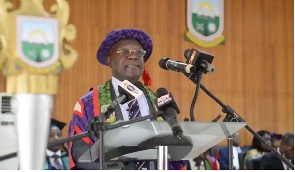 Wed, 29 Mar 2023 Source: GNA
634 students who studied various engineering programmes were awarded certificates and degrees during the University of Mines and Technology (UMaT), Tarkwa 14th graduation ceremony.
This year, 89 graduands received postgraduate degrees, out of these, 12 were awarded Doctor of Philosophy, 75 master's and two persons Diploma. 545 were also awarded Bachelor of Science degrees in their respective engineering programmes.

Graduating students who performed well in their respective programmes were awarded and two workers from the institution were recognised for motivating their colleagues to put on their best.

Shadrack Kwasi Nuamah, with a Course Weighted Average (CWA) of 88.08 per cent from the Department of Mining Engineering, won the Vice Chancellor's overall best-graduating student award, sponsored by the UMaT Alumni Association.

He took home a certificate, a cash prize of GH¢2,000.00 and a laptop.

The Victoria Frempong Memorial award of GH¢2,000 for the best graduating female student went to Miss Alberta Agyapomaa Tawiah of the Department of Mining Engineering with a CWA of 87.41 per cent.
Richmond Amoah, senior staff and Joseph Woode, junior staff, won the best workers award, with citations and a cash prize of GH¢2,500.00 each as their prizes.

Professor Richard Kwasi Amankwah, the Vice Chancellor of UMaT, speaking at the ceremony, advised the graduands that as they transitioned to the next stages of their lives, they should do well to protect the institutions values of knowledge, truth, and excellence.

"As you move out, please identify some of the many problems in our society and solve at least one significant problem for which reason society will remember you" he charged the graduands.

In a speech read on behalf of the Minister of Education, Dr Yaw Osei Adutwum said the government together with the Ministry of Education placed importance on one key area of modern education which was Science, Technology, Engineering and Mathematics (STEM) education.

The Ministry recognizes that presently," STEM education cannot be overemphasized as technology was fast taking over daily activities in homes, schools, institutions and communities to solve real-world problems."
According to Dr Adutwum, STEM education holds numerous prospects and benefits such as improving science literacy, and developing critical thinkers and innovators, which intend to help sustain the development of economies.

"With this realisation, in 2019 the Ministry of Education launched the Education Strategic plan 2018-2030, which among other things, targeted 60 per cent of student enrolment at the tertiary level to be in STEM disciplines as the Ministry identified that only 12 per cent of existing enrolment at the pre-tertiary level were in science programmes" he stated.

It was also for this reason that the Ministry announced the full operationalisation of seven STEM schools across Ghana, which were included in the computerized selection of school placement for the 2023 academic year.

They are; Awaso, Abomosu, Bosomtwe, Koase Technical, Accra High and the Kpesemkpe STEM schools in the Western, Eastern, Ashanti, Ahafo and Northern Regions.

Dr Adutwum noted that construction of 20 STEM centres was ongoing in various communities across the nation, added that "We are confident that these will transform the learning of STEM in our schools as children who access centrres have the opportunity to learn coding, electronics, robotics, game development and character design"
The first 20 STEM centres have been commissioned at the Accra High STEM centre, while work was currently ongoing at Mfantsipim Senior High School (SHS) in the Central Region and Atebubu SHS in the Bono East Region among others, the minister revealed.

Two distinguished Ghanaians, Joe Ghartey, Member of Parliament (MP) for the Essikado-Ketan constituency and Kwesi Enyan, an accomplished captain of the mining industry were given Honorary Doctorate degrees.

Joe Ghartey immensely contributed to the development of railway industry in Ghana and the establishment of the UMaT School of Railway and Industry Development.

Kwesi Enyan was recognized for his solid contributions to the mining industry and support towards the expansion of mining education in Ghana.
Source: GNA