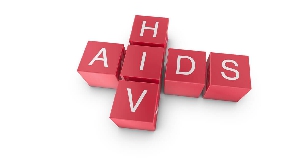 The President of the Ghana HIV and AIDS Network (GHANET), Mr Ernest Amoabeng Ostin has revealed that transactional sex, especially 'hook-up' is a major factor to the upsurge in HIV/AIDS cases in Ghana.
According to him, the youth, mostly between the ages of 15 to 24 are driving new infections of HIV/Aids, based on available statistics.

The expert gave a vivid account of the real situation on the grounds on Atinka TV's morning show, Ghana Nie with Abena Dufie.

Touching on the statistics, Mr Ernest Amoabeng Ostin said in 2022 alone, there were 33,000 new cases as at September.

The above figure, he indicated, was higher than that of previous years.

Previously, he said the new cases were 18, 000 or 19,000 a year but for the first nine months of 2022, the new infections went up.
Mr Ernest Amoabeng Ostin said most of the youth are sexually active but are shy to buy condoms they have sex without any protection as a result.

"Most of the youth did not benefit from the education and so nowadays, they are engaged in something called hookup; they are engaged in transactional sex and they do not use condoms.

According to the data, people between the ages of 15 and 24 are responsible for most new infections. Because most of them are afraid to go out and purchase condoms and they are having sex without protection, the new infections are more prevalent among them, he said.

A few years back, he claimed, HIV/Aids education was being provided in schools, but due to transfers, the majority of the teachers who were in charge of doing so had left their positions to pursue other opportunities.

To ensure that the lesson is carried wherever the teachers go, even if they change jobs, he said, we want to incorporate education into teacher training.
Meanwhile, he advised the youth to be cautious and abstain from sex until they are married.

"Because HIV is real, everyone needs to exercise caution. There are medications, but it is difficult to rise up every day and take medication as a human being. When you have malaria, how many times do you complete the course? You get tired three days after taking the course, so imagine having to take medicine every day of your life; it is not easy, so I will beg you all to be careful. If you take the medication every morning at 8 o'clock, you do not have to worry about forgetting to take it for a minute," he said.

He continued, "If you are not ready for sex, abstain from it. If you are married too, be faithful to yourself and your partner.

"Do not use a sharp object someone has used and when you go to the hospital and they want to give you blood, make sure it has been thoroughly tested," he said.