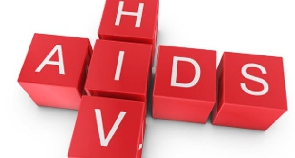 The President of the Ghana HIV and AIDS Network (GHANET) has urged married couples to be faithful to themselves and their partners in order to prevent the spread of HIV/AIDS.
He has also advised the youth to abstain from sex until they are married.

He said this following an upsurge of HIV/Aids cases in the country.

"If you are not ready for sex, abstain from it; it is for adults and married people. If you are married too, be faithful to yourself and your partner. Do not use a sharp object someone has used and when you go to the hospital and they want to give you blood, make sure it has been thoroughly tested," he advised.

Touching on the statistics on Atinka TV's morning show, Ghana Nie with Abena Dufie, Mr Ernest Amoabeng Ostin said in 2022 alone, there were 33,000 new cases between January to September.

The above figure, he indicated, was higher than that of the previous years.

Previously, he said the new cases were 18,000 or 19,000 a year, but for the first nine months of 2022, the new infections went up.
He admitted that the numbers went up because more testing were done, adding that over 800,000 testing was done in 2022 alone.

Mr Ernest Amoabeng Ostin said there was an upsurge in the cases because education has gone down, adding that most young people do not know much about HIV/Aids.

He noted that about 10 to 15 years ago, the sensitisation was more.

However, he said it was reduced because Global fund, the Agency that supports Ghana to fight HIV/Aids directed the Ghana Aids Commission and its stakeholders to focus more on treatment as compared to sensitisation.

He said the Global Fund was of the belief that if the stakeholders focus on the treatment, it will reduce the virus within six months and minimise spread.

Unfortunately, Mr Ernest Amoabeng Ostin said while focusing on the treatment and achieving results, the stakeholders noticed that there was an upsurge in cases.
Meanwhile, he noted that 262,000 persons, out of which 12,000 children born with the virus were on the Anti-retro viral drugs.

He said GHANET was going to develop a dual strategy so that while they are looking at treatment, they will also focus on treatment.

He said for the antiretroviral drugs, Ghana has enough because the Global Fund has paid for it and supplied it.

He also spoke against stigmatisation, saying it poses psychological effects on the victims.

"There are medicines and so if you get the virus, we can give it to you for you to live long, if somebody gets it, it does not mean the person is going to die. If your friend or family member gets it, you have to support them because anyone can get it," he said.