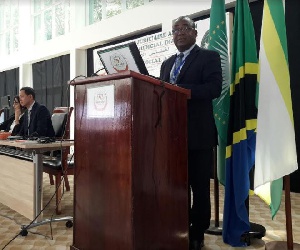 Sun, 12 Nov 2017 Source: CDA Consult
Ghana has called on African Governments to invest and use technology in Courts which would contribute tremendously to judicial integrity and accountability.
"It removes the human interface and ensures speedy administration of justice," Justice Constant Kwaku Hometowu, Justice of the High Court stated at the Third African Judicial Dialogue in Arusha, Tanzania in a paper tagged: "Use of Technology in Court-Ghana's Experience".

Justice Hometowu who spoke on behalf of, Ghana's Chief Justice, Justice Sophia A. B. Akuffo; explained that Ghana as part of a broader E-Justice System has rolled out two models of Automation - inside the court room and at registry level.

"As a country, we are rolling-up the Case Tracking System (CTS) project which is expected to start by the end of November 2017 which is another top layer software that would ensure the horizontal integration of all justice delivery institutions purposely for the monitoring and tracking of criminal cases," Justice Hometowu noted.

Justice Hometowu noted that the CTS system will contribute tremendously to judicial accountability – to ensure that cases are dealt with expeditiously as Management case easily track progress of cases being dealt with by individual Judges.

He through the new CTS system reports can be generated and assessment of output made in respect of cases managed by individual judges.
Types of cases intended to be tracked includes but not limited to emerging crimes such as border crimes (human trafficking), maritime crimes, cybercrime, money laundering, sexual and gender-based crimes (defilement, rape), pharmaceutical crimes such as use, sale and distribution of falsified medicines, with no active ingredients.

Others are remand prisoners on expired warrants, using (SMS) alerts mechanism.

Justice Hometowu commended the Chief Justice; Justice Akuffo for her commitment and dedication to transform the Court system which was started by her predecessor.

He also acknowledged the tremendous support by the USAID the CTS project in particular and other assistances and collaboration extended to the Ghanaian Judicial System.

Justice Hometowu also schooled the participants on categories of Court Automation; explaining that automation inside the courtroom has gone through four generation of systems - the analogue tape recording system; the use of stenographic machines called the Stentura.
The Digital voice recording and transcription systems (DVRTS) dubbed the SRS Fermida system and the Soniclaire system; and the Direct Transcription System (DTS).

He noted that Ghana's modern Courtroom has facilities such as Video Conference which allows Inter-city judgment delivery and taking of witness evidence outside the jurisdiction at the request of the parties.

He said under the new digital dispensation of Ghana's Judicial System, training for judges are sometimes organized through video conference, virtual meetings, and sometimes the Chief Justice addresses staff members via video conferencing facility.

On the automation at the Registry; Justice Hometowu said Ghana has set-up Electronic Case Distribution System, automatic allocation of cases to judges, and Electronic Case Management System.

He said Ghana's Judicial System is systematically graduating towards electronically created cases, possible alignment of regional and payment locations, automated fees assessment, integrated payment and receipts, electronic and scanned documents, and automated processing.
Other technologically induced mechanism includes measured and controlled turnaround time, financial reconciliation reports, automated reporting, and portal enablement.

Third African Judicial Dialogue, organised by the African Court on Human and Peoples' Rights under the auspices of the African Union (AU).

The Dialogue is being attended by about 150 delegates from AU Member States- including Chief Justices, Presidents of Supreme and Constitutional Courts from the 55 AU Member States, as well as regional and international judicial bodies and other relevant stakeholders.

The biennial meeting is on the general theme: ''Improving Judicial Efficiency in Africa'' and is a follow up to the first edition held in November 2013 in Arusha, Tanzania, and second in November 2015, also in Arusha.

The overall objective of the Dialogue is to explore ways of enhancing judicial efficiency in Africa.
It also serve as platform for Africa's top judiciary officials to exchange experiences on the on-going continental judicial reforms, trends on human rights jurisprudence, continuing judicial education and management of judicial institutions on the continent.

The African Judicial Dialogue is organized in collaboration with the World Bank, the German Cooperation (GiZ) and the European Union (EU).
Source: CDA Consult