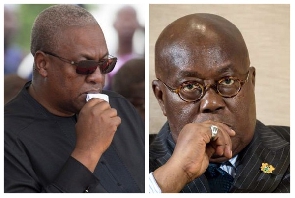 Political Science Lecturer at the University of Ghana (UG), Dr. Asah Asante has said President Akufo-Addo got it wrong when he used the Ghana Bar Association (GBA) annual conference to respond to criticism from former President John Mahama.
President Akufo-Addo has taken a swipe at former President John Mahama over his NPP-NDC judges' comment.

The former President and NDC Flagbearer, John Mahama at a recent conference by NDC lawyers admonished them to be ready to take up duties on the bench to balance the equation after accusing President Akufo-Addo of packing the bench with NPP judges.

Responding to Mr. Mahama, President Akufo-Addo criticized the pronouncements as a dangerous and brazen attack on the judiciary with a call on what he describes as right-thinking Ghanaians not to vote for the former president in the 2024 general elections.

Speaking on Morning Starr with Francis Abban Wednesday, the political science lecturer condemned the actions by President Akufo-Addo for using the GBA conference to settle political scores with the former President.
"I think the President was wrong in using that forum for the kind of things that he did. The President has the right to speak about any subject he wants but that forum was a wrong forum for the President. This one with respect, the President was wrong with the use of that forum.

"I am happy I've heard the reaction of the GBA. Otherwise, it will add to the perceptions that the GBA has gradually becoming a tool in the hands of the NPP. That is why the GBA also reacted the way they did.

"Off-course, you can't blame the GBA because they will not know what the invitation to President what he would have to said. They will not be able to predict that, so they were also taken by surprise. But they were quick in responding to the President. They said, "President on this, you were wrong."