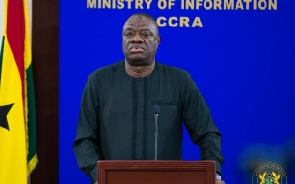 Following concerns raised by the Ghana Hotels Association and the Ghana Progressive Hotels Association that the tariff adjustments by the Public Regulatory and Utilities Commission (PURC) in February have had adverse effects on their operations, the Minister of Tourism, Arts and Culture, Dr Ibrahim Awal, has said the price hike was better than facing power crisis, otherwise known as dumsor.
He explained that the increment was to help restore the country's macroeconomic stability.

Dr Awal, while asking the hospitality industry players to bear with them said, "For four years, we did not increase tariffs. It is only now that we are facing some economic challenges and working to restore macroeconomic stability. Once we do that, it will be better than dumsor'."

"Let's not forget what happened before we came to power. Before 2017, we know what happened. We don't want to go back to dumsor. Dumsor is devastating. Bear with us, we know that slowly we will stabilize the economy and this tariff adjustment will abate," he added.

There was a 167% increment in water and electricity tariffs in February this year.

The increment led the Ghana Hotels Association and the Ghana Progressive Hotels Association to petition PURC.
Speaking in the same vein, the Chief Executive Officer of the Ghana Tourism Authority, Akwasi Agyeman, has a meeting would be held with the hoteliers to address their concerns.

He, however, said if hotels can operate effectively and efficiently, some of these tariffs have to be reviewed.

"But we are also mindful of the fact that they say an expensive electricity is better than no electricity. So let's see how we work together to resolve it," the GTA CEO stated.

SA/NOQ

Ghana's leading digital news platform, GhanaWeb, in conjunction with the Korle-Bu Teaching Hospital, is embarking on an aggressive campaign which is geared towards ensuring that parliament passes comprehensive legislation to guide organ harvesting, organ donation, and organ transplantation in the country.
Watch the latest edition of BizTech and BizHeadlines below:





Click here to start the nomination process for the 2023 GhanaWeb Excellence Awards