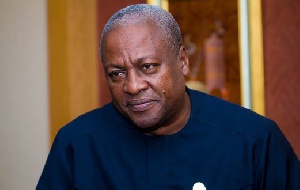 Minister of Defence Dominic Nitiwul has advised former President John Dramani Mahama and some of his appointees to leave "disputed" military lands they are occupying.
Addressing journalists at the Meet the Press series on Thursday, the Bimbilla Member of Parliament said the occupation of those lands especially by the immediate past Commander in Chief of the Ghana Armed Forces (GAF) sends wrong signals.

"I am advising [ex-President Mahama] that if I were him, I will not live there." Mr Nitiwul explained that there was nothing wrong for the former president to occupy military lands but not one which is under contention.
Although not specific where the land is, Mr Nitiwul said that parcel is expected to serve as a boundary between civilians and the military

Therefore, he argues, it is not advisable for Mr Mahama to occupy "a land that the Armed Forces have interest in". The Defence Minister pointed out, above everything else, that Mr Mahama cannot be ordered out of the land.