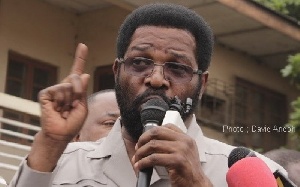 The force and brutality with which the Accra Metropolitan Assembly (AMA), then under the leadership of Alfred Oko Vanderpuije, employed to drive traders off the streets and to eject some slum dwellers incurred the wrath of the people and others who depended on them for survival, resulting in the massive defeat of the National Democratic Congress (NDC) in the 2016 general elections, Issaka Amon Kotei, a local governance expert, has observed.
According to him, Mr Vanderpuije was advised by several development planners and local government experts to adopt a more acceptable and sustainable approach towards solving the issue of people selling on the streets as well as shantytown residents. However, he explained, such counsel fell on deaf ears.

Discussing the re-emergence of hawkers on pavements in violation of by-laws prohibiting selling on streets across the country and the way forward, on Ghana Yensom on Accra100.5FM hosted by Chief Jerry Forson, on Wednesday February 8, Mr Kotei said: "There is no political direction in the districts at the moment because there are no district chief executives or MCEs and so everybody is doing what he or she likes.

"When the MCEs take office, I am sure they will not allow anybody to sell on the streets simply because their government is in power; it will not happen. When that happens, it will mean the MCE will be the most useless metropolitan chief executive in the country, because that is not acceptable.
He added: "On a long-term basis we need to plan how best we can resolve people selling on the streets. The former Mayor of Accra, Oko Vanderpuije used force to drive away the people from the streets and some of us spoke against that. We said that was not the way forward, but he never listened and we have all seen the end results today.

"His action cost his party the elections because these people he ejected with force also had votes, so you need to think properly before you initiate such moves. It is knee-jerk to use force and brutality to drive away people because it will not solve the problem."