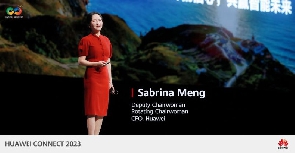 Huawei's Deputy Chairwoman, Rotating Chairwoman and CFO Sabrina Meng has unveiled Huawei's All Intelligence strategy with a focus on Artificial Intelligence (AI) at the Huawei Connect 2023 conference which took place in Shanghai, China.
According to Meng, the goal of the international ICT provider's attempts to incorporate AI technology is to give China a strong computing foundation while providing alternatives for other global economies.

She emphasised that a wide variety of AI models and applications are essential for fostering industries and fostering their expansion.

Delivering the keynote speech at the Huawei Connect 2023 conference, Sabrina Meng noted that, "Huawei is committed to building a solid computing backbone for China – and another option for the world".

"We will keep strengthening the synergy between hardware, software, chips, edge, devices, and cloud to provide fertile ground for a thriving ecosystem. Our end goal is to help meet the diverse AI computing needs of different industries," she added.

During this year's event, Sabrina Meng also unveiled a reference architecture for accelerating intelligent transformation, which was part of the new white paper from the business called Accelerating Intelligent Transformation.

The paper offers practical advice and references to help industries make the most of intelligence.
Meng in her keynote address touted Huawei's dedication and resolve towards building an AI resilient future to drive information and communications technology forward.

"Going forward, Huawei will dive into the product and tech domains where we excel, and work closely with customers, partners, developers, and other stakeholders to provide cutting-edge, easy-to-use industry solutions. By working together, we can help promote greater digital security and trustworthiness, and accelerate intelligence across all industries," Meng noted.

She also emphasized that, "Competence breeds confidence and the future is one we build together and to succeed in the intelligent future to come, there's strength in solidarity and victory through grit."

The Huawei CFO at this year's opening event announced a number of related products and solutions from the ICT provider. These include the All IP strategy to support informatization and the All Cloud strategy to support digitalization in key industries.

Huawei's All Intelligence strategy is designed to help all industries make the most of new strategic opportunities presented by AI particularly at a time where artificial intelligence gains momentum and its impact on industry continues to widen.

NOQ
Ghana's leading digital news platform, GhanaWeb, in conjunction with the Korle-Bu Teaching Hospital, is embarking on an aggressive campaign which is geared towards ensuring that parliament passes comprehensive legislation to guide organ harvesting, organ donation, and organ transplantation in the country.

Watch the latest edition of BizTech below:



Click here to start the nomination process for the 2023 GhanaWeb Excellence Awards