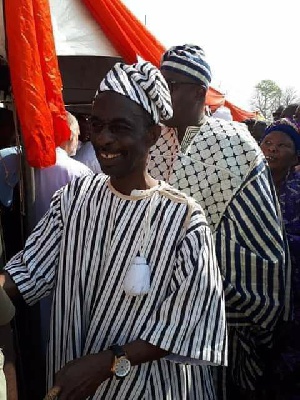 General Secretary of the National Democratic Congress (NDC), Johnson Asiedu Nketiah, has questioned the commitment of President Akufo-Addo in bringing an end to vigilantism in the country, when he (the president) "actively participated in recruiting and training" them (vigilante groups).
"The impression I get is that, here, we are with a president who actively participated in recruiting and training of vigilante groups, trained at state facilities, armed with state resources and are moving around in state vehicles, and in effect, embedding his own party vigilante into the state security, and now distances himself from the problem and is now calling for two powerless political parties to go and meet," the NDC General Secretary stated.

Background

President Nana Addo Dankwa Akufo-Addo, while presenting the 2019 State of the Nation Address, Thursday, in Parliament, called on the leadership of the two main leading political parties, the NDC and the New Patriotic Party (NPP) to help find a lasting solution the menace of political vigilantism in Ghana.

"The time has come for us to put to end political-related violence," he said, adding that "our children and grandchildren will not forgive us" if the country's peace and security is undermined.

He warned that should the political parties fail to reach an agreement on how to chart a path to end vigilantism, he will initiate legislation that will curb their (vigilante groups) activities.
Political Posturing?

But speaking in an interview on Citi Eyewitness News, Thursday, Asiedu Nketiah, popularly known as General Mosquito, believed the President was simply indulging in the act of political posturing in the eyes of the diplomatic community, adding that what the President said was merely "to demonstrate to the international community that something is being done".

To him, it is far-fetched on the part of the president to assume that "somehow when two political parties meet, then they can enforce the laws of the country. I feel so disappointed."

"I want to believe that a meeting between NPP and NDC won't solve any problem. Also, the President's threat of using legislation is also not going to solve any problem because there are laws in the country that can deal with this problem. What is lacking is the political will of the governing President. It takes the President alone to clean the state apparatus of the vigilantism to clamp down on vigilantism outside the state apparatus...And so we believe that instead of calling a meeting of two political parties to talk about vigilantes, he should allow the state institutions to act. It must begin from the president taking action to cleanse the state institutions of these vigilante elements because he has recruited so many of them and embedded party vigilantes within the state security," he added.