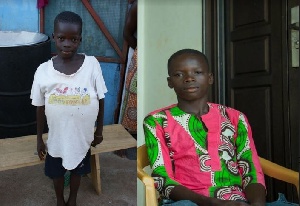 Thu, 20 Apr 2017 Source: Global Media Alliance
The impact of Vodafone Ghana is seen through several aspects of the Ghanaian life.
Beyond the provision of modern telecommunications services for the good of society and the economy; the company continues to touch several lives through health and education, using its foundation.

Its health portfolio contains a myriad of initiatives designed to bring relief and comfort to mostly deprived Ghanaians.

One of such beneficiaries is the family of Bismark Danfo. Courtesy of Vodafone's Health line programme on television, this young man was able to undergo bowel surgery to save him from the grip of death.

Before the successful surgery, 12 year-old Bismark was unable to pass stool for over three months; causing him to have a bloated stomach, severe pains and sleepless nights.

As a result of this, the family has expressed profound gratitude to the telecoms company; adding that the surgery has restored their hope and given them normalcy in their daily lives.

Making this revelation after a visit by a section of the Health line team, Bismark's father, Kofi Mensah, said:
"When Bismark was diagnosed with the condition, it was disheartening to watch him suffer. We lost all hope but God sent a helper through Vodafone. We are eternally grateful to Vodafone for restoring our hope.

I pray that God will continue to bless them so that they can help more people in need."

Bismark, who aspires to be a pilot in future said he is now able to go to school, socialize and play with his friends.

Healthline, since 2011, has catered for the full cost of surgeries for many financially-challenged Ghanaians suffering from various health conditions.

The programme also educates, informs and demystifies various myths on health related conditions.
Source: Global Media Alliance