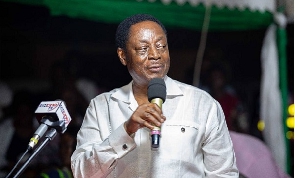 An aspiring presidential candidate of the opposition National Democratic Congress, Dr. Kwabena Duffuor, has assured the people of the Volta region that the next NDC government will prioritize the region's development.
Speaking to delegates in the Anlo Constituency in the Volta region on Friday, Dr. Duffuor intimated that previous NDC administrations did little for the region despite the unwavering support and loyalty the party enjoys from its people.

He believes the neglect party people and the entire region has suffered is to account for the recent electoral successes the ruling New Patriotic Party has chalked in the Volta region.

"In 2025, we [NDC] would come back but we need your votes, Volta. The 204,000 votes you gave them [NPP] in 2020 we would not agree, whatever we should do to correct the wrongs we would do," he said.

The former finance minister used the opportunity to appeal to the people of the region not to abandon the party while assuring them of a better treatment should he win the flagbearer race and ultimately become President.
"Don't get angry because for years we abandoned you, it will not happen again when we get power in 2024. Volta will have a special place in the ranking, you will be at the top," Dr. Duffuor assured.

He further indicated that his administration if given the mandate will prioritise the agric and tourism sectors as a catalyst for the region's development in order to reposition it as the world bank of the party.

Dr. Duffuor is promising to strengthen the party's base by building regional and constituency offices across the country where workers in the offices working for the party will be adequately paid.

Dr. Duffuor's team is expected to visit Keta, Ketu South and North and the Akatsi North constituencies to round up day two of his campaign.