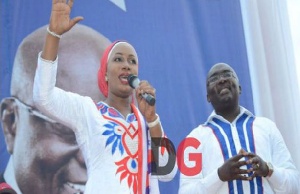 Samira Bawumia, the wife of the Vice Presidential Candidate of the New Patriotic Party, Dr. Mahamudu Bawumia has called on Ghanaians voting in the forthcoming presidential and parliamentary elections not to renew the mandate of the governing National Democratic Congress (NDC).
Addressing supporters of the party at Seketia in the Jaman North constituency of the Brong Ahafo region, Mrs. Bawumia tore into the eight years performance of the NDC, stating that Ghanaians are suffering due to the latter's terrible policies.

The NDC under the leadership of president John Mahama, she continued, has destroyed the country's economic fortunes as a result of unbridled corruption, hence the need to reject them on December 7, for the NPP.
The NPP, argued Mrs. Bawumia, boasts of well-defined policies and if given the mandate would bring about unprecedented economic and infrastructural growth and transform the country.

"We gave someone eight years and the person could not perform. What can the person do in four years? They would have done it if they are capable of doing it. They are not capable — that's why they could not perform. The hardships is too much in Ghana. At this moment, we need someone who has a good heart, who is God fearing and humble, who'd not support corruption in Ghana and that person is Nana Addo Dankwa Akufo-Addo," said Mrs. Bawumia.