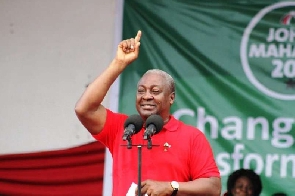 Presidential candidate of the National Democratic Congress (NDC), John Dramani Mahama, has asked the voting population in the Kumawu constituency to vote massively for the party's parliamentary candidate in the upcoming by-election.
The NDC is being represented by Akwasi Amankwaa popularly known as 'Tom Cee'.

Interacting with the Muslim community in Kumawu in the Ashanti Region on May 19, the former President called on NDC members to ensure that the parliamentary candidate wins the by-election.

"We all know that constitutionally, after the death of our younger brother Philip Basoah, there has to be a by-election. We acclaimed Akwasi Amankwaa for the 2024 general elections, but now that we are in for a by-election, he will be representing the party.
"I'm calling on our Zongo chiefs, Imams and all of you to pray and vote massively for Akwasi Amankwaa to win the seat. NDC brings relief anytime we are in power. We in the NDC do not discriminate, we share projects across the board. Though we have not won the Kumawu seat before, all beautiful projects in Kumawu were undertaken by the NDC government. We know that your prayers and God's grace will bring us to power".

John Mahama officially presented the party's parliamentary candidate for the Kumawu by-election, Akwasi Amankwaa, to the Kumawuhene, Barima Sarfo Tweneboah Kodua II, on Friday.

John Mahama was in Kumawu with the NDC leadership to campaign ahead of Tuesday's by-election.