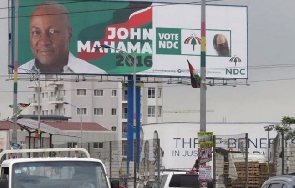 The National Democratic Congress (NDC) has hit social media with a new campaign message as it canvasses votes its presidential candidate for the 2024 presidential elections.
The message asserts that a vote for John Mahama on December 7, 2024 is a vote for the second independence and liberation of Ghana. The message reads: "7th December 2024! GHANA'S SECOND INDEPENDENCE AND LIBERATION DAY! Vote JM Vote NDC".

The billboard capturing the message has been shared many times by NDC members and activists with captions to the effect that John Mahama is the best to lead the country come January 7 2025 when President Akufo-Addo will handover power to the next President.

"DONT be left out as we prepare for Ghana's 2nd Independence & Liberation Day.
Date: 7th December 2024. Venue: Over 38,000 polling stations across the country Get your Voter's ID and be ready to be counted," Yayra Koku, an activist of the NDC wrote as he shared a photo of the billboard.