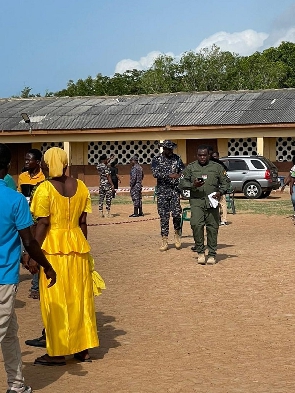 Delegates have commenced voting in the Ningo-Prampram constituency to elect a member of parliament for the constituency.
The contest is between the incumbent Member of Parliament, Sam George, and his contender, Michael Tetteh Kwetey, a businessman.

Voting commenced at 8 a.m., and a total of 1675 delegates are expected to vote by the end of the process.

Delegates have also been converging to the voting centre in STC buses as they take turns casting votes.

The process is very peaceful and calm.

There is also heavy security from security personnel.
Sam George who is at the centre is seen ushering some of the delegates to join the voting process.

Speaking in an interview, he said he is very confident of winning as he trusts his delegates.

"…I absolutely truth my delegates. Some of them came last night refused to go back home, and slept. We stayed up and had praise and worship. Some came in the morning at 4 am for me it is an indication that the 9th parliament I have the responsibility to deliver the best Sam George has ever delivered," he told GhanaWeb's reporter Nimatu Yakubu Atouyese.

In 2019, the Ningo-Prampram Member of Parliament Sam Nartey George won the parliamentary ticket to contest the seat again for the National Democratic Congress in the 2020 race.

He won with a slight margin of seven.
He was able to pull 407 votes while his contender Micheal Kwetey had 400 votes.

Two ballots were rejected out of a total of 809.

YNA/BOG