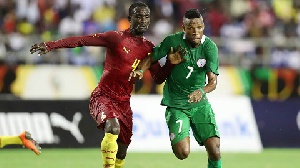 The Super Eagles of Nigeria proved too strong for the Black Stars as second half goals from Okpotu Anthony and Moses Peter saw the Nigerians grab their first win of the 2017 WAFU tournament.
A typical West African game that was rife with hard-tackles, intense rivalry and high tempo ended with Nigeria beating Ghana by two goals.

The Eagles had a spirited start to the game, taking the game by the scruff of the neck and probing the Ghanaian defence which was held together by Hearts of Oak's Vincent Atinga.

The Black Stars, however, grew into the game and created some decent openings but the front-liners could not make use of the half chances that came their way with Elmina Sharks' Felix Addo being the chief culprit.

The first half ended with neither side finding the back of the net in a very feisty and physical contest.

The Eagles returned strongly from the break and threw all forms of attacks at the Ghanaian team who had lost the midfield battle to the rugged Nigerian midfield.
Coach Maxwell Konadu was forced to make a lot of changes as his injury-ravaged team struggled to cope with the pressure of the Nigerians.

Nigeria's continued probing paid off as Anthony Okpotu muscled his way through the Ghanaian defence and struck the ball past Ghana goalkeeper Joseph Addo.

The much-needed cushioning came three minutes later when Moses Peter fired a thunderous strike past goalkeeper Joseph Addo who had no clue how to deal with the ball.

Ghana's quest to get either a consolation or grab the two goals couldn't materialize due to profligacy on the part of the forwards and also collective defensive work by the Nigerians.

Nigeria and Ghana have qualified to the semi-final of the tournament with 5 points and 6 points respectively