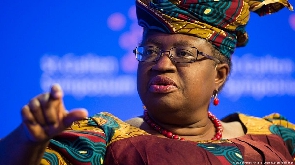 The Director-General of the World Trade Organisation (WTO), Dr. Ngozi Okonjo-Iweala, has urged member countries to expedite the ratification of the Agreement on Fisheries Subsidies in order to combat overfishing in the world's oceans.
In a discussion with a group of twenty-three journalists selected from developing countries in Geneva, Switzerland, Dr. Okonjo-Iweala expressed concern about the adverse effects of overfishing on global sustainability.

She called upon the journalists to encourage their respective governments to join the 43 countries that have already ratified the Agreement, emphasising the importance of saving global fish stocks for the future.

While acknowledging the significance of negotiating such agreements, Dr. Okonjo-Iweala stressed the urgency of ratification for the Fisheries Subsidies Agreement.

She pointed out that the oceans are currently experiencing a 50 percent overfishing rate, making swift action imperative.

Dr. Okonjo-Iweala also called on the media to support her efforts by advocating for the ratification of the Agreement.
She stated, "So far, we have 43 members who have ratified, and we need about 110. You can help us by writing about the importance of your country ratifying this Agreement."

Addressing the younger generation, she emphasised their responsibility in safeguarding the ocean and ensuring sustainability, as overfishing directly impacts their future.

The Agreement on Fisheries Subsidies is a significant accord designed to prohibit harmful fisheries subsidies that contribute to overfishing and illegal, unreported, and unregulated (IUU) fishing.

Ratification of this Agreement is crucial for managing the world's fish stocks sustainably, which is vital for global food security and the livelihoods of millions of people.