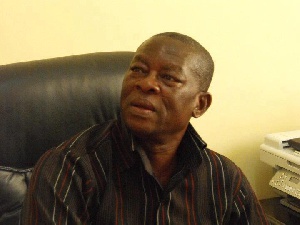 Former National Organizer of the National Democratic Congress (NDC) Yaw Boateng Gyan has impliedly accused the Bank of Ghana (BOG) of neglecting its responsibilities leading to Unibank Ghana Ltd, an indigenous private bank becoming "technically insolvent".
BOG on Tuesday, March 20, 2018, announced that it has taken over the management of UniBank, by appointing an official administrator, KPMG, an audit firm to run the indigenous bank.

The announcement has shocked many since UNIBANK had won numerous awards for performing successfully in the industry a few years ago, and even recently, reports emerged that it (UniBank) was taking over the management of the Agricultural Development Bank (ADB).

Explaining the reason behind the takeover, the Second Deputy Governor of the BOG, Mrs. Elsie Addo Awadzi in an interview with Kwami Sefa Kayi on Peace FM's Kokrokoo on Wednesday, said the BOG took the decision to save Unibank from "imminent collapse".

"It is not true government and Bank of Ghana is intentionally collapsing the banking sector. There are rules and regulations to follow in the banking sector and when you abide by them, your bank will not collapse but if you don't, then you will have problems no matter how many times we help," she added.
But Yaw Boateng-Gyan, who is aspiring to be the National Organizer believes there might be some underhand dealings resulting in the BoG decision.

According to him, there is more to the issue than meets the eye because he doesn't understand why Unibank is said to have serious financial problems but the bank was sweeping away awards.

He asked why the BOG didn't step in to deny Unibank from amassing the awards if they knew the bank was underperforming in the financial sector. He strongly held that the central bank cannot absolve itself from blame since it has not been proactive in their policy and supervisory functions in the financial sector in particular, and the economy in general.

"If UNIBANK was underperforming and the management not up to task, what therefore was the basis for which the bank was honoured for Ghanaians to accept that this bank is in good shape?…What criteria did they use to determine that Unibank is strong and deserved such numerous awards? That's my problem. Does it mean we knew some things were being done under the cloak of darkness but decided to just pamper them or is it that their activities then were unknown?" Mr. Boateng Gyan quizzed.