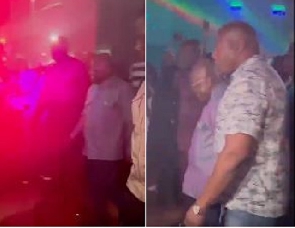 President Nana Addo Dankwa Akufo-Addo was in attendance as Amakye Dede rocked the stage at an evening Easter bash in the Eastern Region.
The president joined thousands of patrons at the the night club of Rock City Hotel in Kwahu on April 8, 2023.

In a video shared by Ghana Music on Twitter, the president is seen walking into the club as the MC is heard screaming repeatedly "Addo Showboy, Addo Showboy, Addo Showboy."

The president is accompanied by a number of his guards as he makes his way across the hall to his seat.

Ghana Music captioned their tweet thus: "Check out Amakye Dede's performance at Rock City Hotel in Kwahu last night. He had President Akufo Addo in attendance."
The Rock City Hotel is owned by Abetifi Member of Parliament Bryan Acheampong who also doubles at agric minister.

It is a major attraction for patrons who attend the annual Easter celebrations in the Eastern Region.

This is not the first time the president is joining patrons in the night club in Kwahu. He was in attendance last year as well.


Check out Amakye Dede's performance at Rock City Hotel in Kwahu last night. He had President Akufo Addo in attendance. #GhanaMusic pic.twitter.com/VmJMKrgFvV

— Ghana Music (@GhanaMusic) April 9, 2023