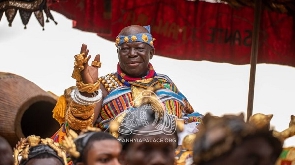 The Ashantehene, Otumfuo Osei Tutu II, his sub-chiefs, and the people of the Ashanti land marked their 3rd Akwasidae for 2023 on Sunday, April 30, 2023.
The colourful event was attended by several dignitaries, including former President John Dramani Mahama.

The 3rd Akwasidae comes shortly after the Asantehene celebrated the 24th anniversary of his coronation as the King of the Ashanti Kingdom.

As usual, the Asantehene arrived at the celebrations in style, in a palanquin adorned in Kente cloth and gold ornaments with pageantry amidst drumming and dancing.

Audio-visuals shared by Opemsuo Radio showed the Ashanti King majestically riding in a palanquin as he danced and waved at his subjects and guests.
Otumfuo Osei Tutu II can also be seen in a video displaying his Adowa dance skills when he stepped down from the palanquin.

The Akwasidae festival commemorates the time that the Ashanti Golden Stool was magically brought down from heaven and is celebrated once every six weeks on a Sunday.

Every paramount chief in Asanteman (Ashanti Kingdom) observes the Akwasidae in his jurisdiction, however, the main event is held at the Manhyia Palace, in Kumasi.

There, the Asantehene (Ashanti king) sits in a state for his subjects and other visitors to pay him homage.
View audio-visuals of Otumfuo's arrival plus other cultural displays at the event below:


Adaɛ nsi yɛn nyinaa yie…#opemsuoradio pic.twitter.com/8WHNFUk7Qx

— Opemsuo Radio (@OpemsuoRadio) April 30, 2023
Asanteman wɔ wo nti na wɔn anibre woɔ… #opemsuoradio #asanteheneat24 pic.twitter.com/378fKYKFpq

— Opemsuo Radio (@OpemsuoRadio) April 30, 2023
Former President John Mahama & Entourage At Manhyia To Celebrate The 3rd Akwasidae Of The Year 2023. #opemsuoradio #asanteheneat24 #akwasidae23 pic.twitter.com/2UEWniHyxA

— Opemsuo Radio (@OpemsuoRadio) April 30, 2023
Meanwhile, watch the latest episode of People and Places on GhanaWeb TV below:


IB/OGB