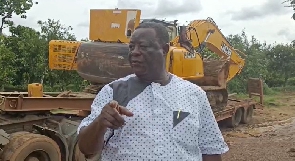 Minister of Roads and Highways, Kwasi Amoako Atta was reported to have ordered the arrest of two galamseyers after causing them to clean a stretch of road that they had muddied whiles transporting an excavator of a lowbed truck.
The incident which happened over the weekend was along the Akrofufu to Twapease road in Atiwa West District in Eastern region, Kasapaonline.com reports.

The Minister who is also Member of Parliament for the area was returning from an engagement with New Patriotic Party (NPP) executives when they chanced upon the galamseyers following which he ordered the series of actions.

In a video available to GhanaWeb, the visibly angry minister insisted that it was a responsibility for all and sundry to support president Nana Addo Dankwa Akufo-Addo's fight against illegal small-scale mining.

He declared war on the menace and alluded to the fact that the financiers behind galamsey – which he described as a heinous crime, stupidity, insanity and madness – were in Accra.

"He (Akufo-Addo) is the number one Chief Executive of this country, so everybody is calling on him and we should help him. And me, as one of his sector ministers, I will fight it from my constituency point of view.
"I will fight with every inch of authority that he has put in me in my constituency. From now onwards, I am declaring war on galamsey in my constituency, we won't all ow people with selfish interests to destroy the constituency," he bemoaned.

He added: "Aside, those two people (galamseyers) who are immediately being arrested, their financiers, the big guys that are sitting in Accra, and carrying out this heinous crime, this madness, this stupidity, the insanity that is prevailing, those people are in Accra.

"I have challenged the police to carry out their own investigations to arrest those people. I want the owners of this excavator, the owners of this lowbed truck to be arrested. They should come forward and I am going to follow the process of prosecution with an eagle eye," he added.

Galamsey has been a topical issue in the country over the last few years with government struggling to cope with the level of destruction that it has wreaked on the environment and water bodies in especially the middle and parts of the coastal belts.

A leaked report by a former environment minister alleged complicity of people at the presidency, Members of Parliament and other opposition politicians in the galamsey trade highlighting why the fight has been largely deemed to have failed.
Watch the minister's tirade below:



SARA

Ghana's leading digital news platform, GhanaWeb, in conjunction with the Korle-Bu Teaching Hospital, is embarking on an aggressive campaign which is geared towards ensuring that parliament passes comprehensive legislation to guide organ harvesting, organ donation, and organ transplantation in the country.

You can also watch the latest episode of Everyday People on GhanaWeb TV below:




You can also watch the latest episode of The Lowdown on GhanaWeb TV, as we explore the need for organ donations, below:




Share your news stories and ideas with GhanaWeb




To advertise with GhanaWeb