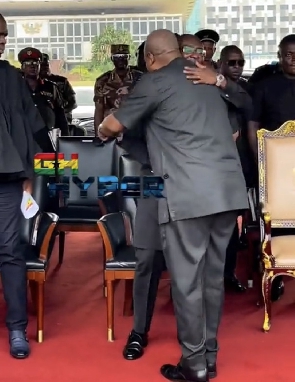 Former President John Dramani Mahama exchanged friendly pleasantries with President Nana Addo Dankwa Akufo-Addo and his Vice President, Dr Mahamudu Bawumia at the funeral of the late Ghanaian player, Christian Atsu's Funeral.
Christian Atsu was given a state burial at the Forecourt of the State House on March 17, 2023 following his death.

The former Black Stars player's funeral rites was attended by many high-profile dignitaries and members of the diplomatic corps.

However, one of the eye-catching moments at the Atsu's funeral was when, the former President John Mahama met Akufo-Addo and Bawumia.

The former head of state and the current first gentleman of the land who have on different occasions clashed on political fronts put aside their differences and exchanged pleasantries at the funeral.

The former President, John Mahama was the first to greet Vice-President, Dr. Bawumia who had already taken his seat at the podium. The two exchanged pleasantries accompanied with huge smiles.
However, later on when President Akufo-Addo arrived he also went to the man he ousted from office in 2016 to accord him with respect.

Christian Atsu died in the devastating earthquake which struck Turkey in February with Atsu being under rubble for 12 days before his lifeless body was recovered.

The former Black Stars player was given a state burial with hundreds of Ghanaians attending to pay their last respect to the player.

Watch video below


Watch videos from Atsu's funeral below:












JNA/WA