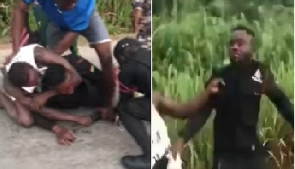 A policeman on patrol in the Ashanti Regional town of Kumawu was captured in a viral video being subjected to attacks by seven young men for reportedly trying to confiscate game that they had gotten from a hunting expedition.
According to the state-owned Daily Graphic, the incident which occurred on April 7, has since led to the arrest of five of the attackers whiles two others are on the run.

In a video shared on social media, the said policeman is seen pinned on the ground by two of the young men who are trying to take away his rifle.

It appears that a police reinforcement team arrives at the scene and tries to free the officer who is under duress because one of the attackers are almost choking him from behind.

His colleague officer focuses on successfully retrieving the gun and is heard telling the young men repeatedly to leave the gun.

He eventually takes hold of the rifle even as the young men continue to hold the policeman by the neck refusing to let go of him.
The Graphic report alleges that the young men were still holding on to him because of their hunt which he had confiscated.

A Police situational report quoted by local portals state that the young men numbering seven (7) were occupying a Kia Matix taxi cab with registration number AS 9504- 19.

They resisted an attempt by Corporal Sylvester Berhene to conduct a search on their car.

It was the reinforcement from the police surveillance team that intervened and in the process arrested five whiles two bolted.

Those arrested were identified as Edward Boateng aged 20 years, Evan Addo aged 20 years and Yaw Kusi aged 22 years.
The others are Michael Owusu and Boateng Yaw ages 28 and 20 years respectively.

Watch the video below: