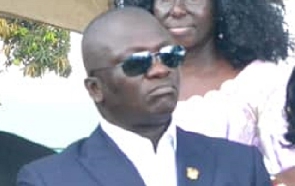 Members of the New Patriotic Party are defending agric minister, Bryan Acheampong over recent comments that have attracted lots of political chatter especially on social media.
The minister, who also serves as Member of Parliament for Abetifi said at a party event over the week that the NPP will match the opposition National Democratic Congress come 2024 and that they will not hand over power to the NDC.

Whiles the NDC has expressly described the comment as reckless and treasonable and called for the minister to be arrested, NPP activists on social media including some presidential staffers are putting up a defence.

One such defenders is Dennis Edward Aboagye, a presidential staffer, who shared a video of former president John Dramani Mahama at diferent points talking about upcoming elections being a do-or-die affair of being a boot-to-boot contest.

He captioned the video thus: "Your candidate threatens and preaches violence and touts your revolutionary roots. @BryanAcheampong replies and says IF you try violence, you won't have your way and you are screaming. What were u thinking?

"Political Bullies, They hate people who stand up for themselves," he stressed.

Bryan Acheampong booms
Bryan Acheampong's controversial views were made at a party rally over the weekend.

He is heard saying in a viral video that the NPP will do everything within its means to win the 2024 general elections.

According to him, the NPP is not ready to hand over power to the National Democratic Congress (NDC), therefore, his party will go to the election fully prepared.

He stated that the NPP has the men to match the opposition boot for boot during the 2024 polls.

Addressing party faithful after a health walk through the principal streets of Mpraeso on Saturday, April 8, 2023, Bryan Acheampong stressed that "We will show NDC that we have the men if they want to do intimidate, harass us or do anything foolish during the 2024 elections...It will not happen that we will hand over power to NDC. We'll use any means for NPP to stay in power."


Your candidate threatens and preaches violence and touts your revolutionary roots.@BryanAcheampong replies and says IF you try violence, you won't have your way and you are screaming.

What were u thinking?

Political Bullies, They hate people who stand up for themselves. pic.twitter.com/hcsfP0rlRQ

— Dennis Edward Aboagye (@DennisMiracles) April 9, 2023
SARA