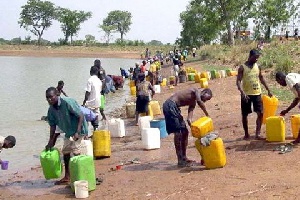 The Ghana Water Company Limited has said the announced rationing of water in Accra, Tema and parts of the Western region will continue until the rainy season.
According to the GWCL, the water shortage has been largely occasioned by the felling of trees along water banks and illegal mining.

"The dry season will kick in into March. The rationing will continue until we have enough water we can process for supply. The harmattan has been very severe in this year and has affected us in terms of water supply. Unfortunately, we are felling trees including those around river banks, when temperatures are high, we are likely to lose all the water in these rivers that are exposed.

"Until we get rains, we cannot say much about what to expect in terms of water supply. We are hoping that we get early rains in this year. We need to sustain the fight against galamsey and try our best to preserve our water bodies," public affairs director of the water company Stanley Martey told Francis Abban on the Morning Starr Monday.
He said in spite of the rationing, no affected community should go two days without water flowing in their taps.

"Tema will receive water on Mondays, Tuesdays, Thursdays and Fridays. Teshie Nungua now receives water on Wednesdays, Saturdays and Sundays. Takoradi has been divided into four zones…We'll make sure no area will be without water for more than 2 days. We are doing a lot of education on water pollution and a lot of community engagements to help create awareness. The galamsey activities and the dry season have contributed to rationing plan we've come up with," he noted.