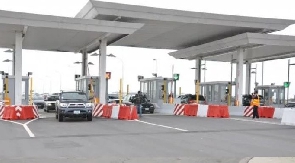 Mr. Isaac Adjei Mensah, Member of Parliament (MP) for Wassa East on the National Democratic Congress (NDC) ticket and former deputy Minister for Roads and Highways, says the NDC will reinstate road toll collection when it returns to power.
The Minister for Finance, Ken Ofori Atta, announced that the government had abolished the collection of road tolls during the 2022 budget statement .

When presenting the 2022 budget statement and economic policy of the government on the floor of Parliament on Wednesday, November 17, 2021, the minister mentioned that a new levy would be imposed to make toll paying more universal.

Speaking on Atinka TV's current affairs show, "The Agenda" with Nana Yaw Fianko (the Speaker), Mr. Isaac Adjei was of the view that if the tolls collected are used to develop the roads as expected, the people will gladly accept to pay even when the tolls are increased.
"Look at the ones in Kasoa and other areas that were cancelled; even when you want to pay them, see the stress you go through." Why are you collecting the toll? I am going to pay it and have to go through stress, and even the road that you are using to go and pay the toll is bad. When we come back to power, we will watch and execute the toll collection properly. We were doing it, but they came to spoil it. We will implement it and do it very well. "We have about 38 toll stations in Ghana, and they are mostly on the highways, and I know the collection of tolls is a good thing, so when we [the NDC] come back, we will implement it properly," he said.

He also said the E-Toll will be re-introduced when the NDC starts the collection of road tolls.