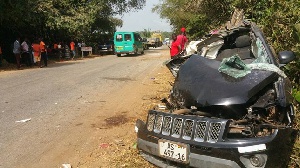 The National Road Safety Commission (NRSC) is challenging every Ghanaian to play a responsible role in an attempt to create the awareness of safety measures on roads in the country.
"I think what may be not going on right is all of us taking responsibility of safety. It looks like as a nation we think like the Safety Commission is the only one responsible and therefore the rest of us just look up to the commission forgetting that we are all stakeholders". Mrs. May Obri Yeboah, Executive Director, National Road Safety Commission (NRSC) said this on GBC's Behind the News program Friday evening.

When asked if perhaps Ghanaians think they are supposed to take the lead in enforcing and making good initiatives on road safety, she said, "We are the lead agency, how many times are we supposed to educate, advocate? We coordinate as well and collaborate". These are our mandate, we are not supposed to enforce laws", she stated.

According to her, it is the duty of the Police Service's to see to it that laws regarding safety on roads are respected by road users.

Speaking on records of accidents, the National Road Safety Commission pointed out clearly that death toll on roads in Ghana which decreased from 2000 to 1800 per year has gone back to a constant of 2000 during the last two years. Every day, an average of six (6) people die through road accidents.
"There is nothing that we should be happy about, deaths and permanent injuries are too many", she said, indicating that all stakeholders need to rise and do the little each can do to help. "We all need to contribute our quota". She urged

She also urged the media to help in advocacy and campaign against road accidents just as they campaigned against "galamsey", or illegal mining.

Responding to issues as to why the people may seem the Road Safety Commission is not performing as expected, May Obri Yeboah made it plain that the commission is not fully funded to carry out all its duties and projects.