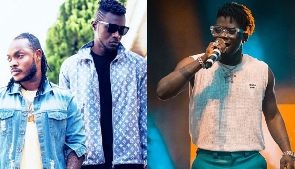 It seems that all is in order in the camp of Keche and Kuami Eugene following a 'friendly' post that suggests that both parties might have finally smoked the peace pipe.
"Big shouts to our gee @KuamiEugene...we family, one game one industry one love," read the caption of a photo that captured Eugene and Keche Joshua together.

In the year 2020, music group, Keche featured the Highlife artiste on their hit single 'No Dulling'.

Both parties have since made claims following the success of the project. It all began when Kuami Eugene took credit for the chorus, a claim which has been countered by Joshua Kojo Ampah and Andrew Kofi Cudjoe of Keche.

The issue was revisited when Kuami Eugene in an interview on the Delay Show in April 2023 maintained that he played a major role in the song describing Keche as liars.

"That chorus, that whole hook embodiment was written by me and anyone who says otherwise, I don't know how to say this not to come out as disrespectful but is a lie because I wrote that," these were the words of Kuami.
Shortly after the release of the interview, Joshua, took to Twitter to rubbish the statement adding that their colleague wants to overlook their effort on their own project.

"They said the only thing we did on the song was 'otan bebrebe yi enti wo daa wo da'. I don't understand it (laughs), Andrew, they mean to tell us that we only sang that line on 'No Dulling'...I still don't get it," he noted.


Big shouts to our gee @KuamiEugene … we family, one game one industry one love ❤️ ???????????????? K???? pic.twitter.com/lsRDjEXRSG

— #TheSkillTeam (@kecheglobal) May 4, 2023
So that's all we did in the song eeiiii hmmmm it's well with us ???????????????????????? pic.twitter.com/Tfr9JEKgVg

— #TheSkillTeam (@kecheglobal) May 3, 2023




OPD/BB