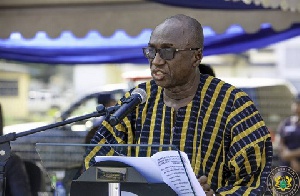 Youth pressure group, Nandom Youth Network for Development have commended the current Minister for Interior, Ambrose Dery for what they claim is an unprecedented level of development and transformation in Nandom since he took office in 2017.
Mr. Ambrose Dery, who also serves as the Member of Parliament for the Nandom constituency is alleged to have provided a total of 35 boreholes in various districts, funded a police post at the Kaaba bridge, organized a cervical cancer screening and is ready to provide a new medical equipment to the Nandom hospital only fourteen months into his tenure.

Although the Interior Minister has received massive backlash from the general public after the country witnessed an immense increase in daylight robbery, killings and attack on the citizens, the youth maintain the minister must be celebrated.

Speaking at a press conference held in Accra, National President of the group, Julius S. T. Baayel said Mr. Dery's effort to bring development to Nandom using his own resources is an attitude worth replicating by all.

"We the youth of Nandom feel vindicated in the choice we collectively made on the 7th of December, 2016 by these developments we are witnessing. The signs were clearly visible to us while he was even in opposition and we took the bold decision which we have every reason now to be proud of.
Our MP, backed by his firm in 2012, financed the drilling of 9 boreholes and also sponsored some students through school. It is therefore no surprise to us that he is merely continuing something he has been doing. Our recent check at the district assembly has also revealed that part of our funds generated will be approved by the MP to fund the district mock exams for BECE candidates in the Nandom district this year."

They also lauded the President, Nana Akufo-Addo for his contribution to the constituency's seemingly fortunes.

"Nandom has had leaders in the past who tried to do their bit, but the coming into office of this pair (Nana Akufo-Addo and Ambrose Dery) only 14 months ago has proven to us that our under-development was a dysfunction of leadership or the lack of it. We are told that the one village one dam project for Nandom has been approved and work is expected to commence soon.

The Nandom Urban Roads Project has commenced having been commissioned by the President in 2017. It is also worth noting that the Rural Electrification Project commenced in 2003 and stalled till 2017 has been restarted and is expected to expand to cover over 48 more communities."