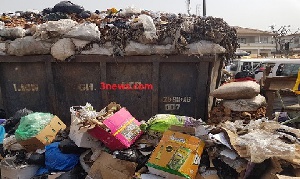 Waste management firm, Zoomlion Ghana Limited has refuted claims it has refused to collect waste for disposal within the central business district of Kumasi in the Ashanti Region.
Earlier reports suggested a possible cholera outbreak following the failure of authorities to collect waste from waste containers for the past two months.

John Gorkeh-Miah, Director of Waste Management Department at the Kumasi Metropolitan Assembly (KMA) was quoted to have blamed Zoomlion for failing to clear the waste.

"Zoomlion has been contracted to evacuate refuse around that area and the refuse container belongs to the company. The untimely evacuation of refuse in the area has not come to my attention but I will find out from the management of the company why they have been delaying in evacuating the refuse when they are being paid to do so," he said.
But an authority with Zoomlion who spoke to Ghanaweb on condition of anonymity said it was unable to collect the waste because contractors were not given access to the final disposal site.

"Where we are supposed to dump the refuse has not been opened to all contractors for the past three months. The challenge is not emanating from us. What we do is, we try to go farther than where we are supposed to. We move to Ejisu and beyond but because it is very far, the cars are unable to go the expected number of times," he said.

"They have assured us they are going to open it and indeed, it was opened today. However, if they close it, there will be more problems," he added.