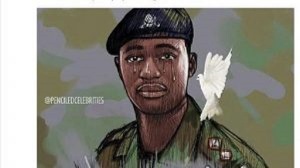 Residents in the Denkyiraboase are asking the family, military and Ghanaians to forgive them for the barbaric act committed by enraged youth in the community.
Currently, the residents have gathered at the venue where the irate youth lynched and burnt the body of the late Major Maxwell Adam Mahama to mourn him.

Clad in red and black with sorrowful faces, majority of the residents there are the aged and children, just a few youth are seen.

'They should forgive us for the heinous crime our people committed, we are sorry,' a leader of the community pleads as he addresses the gathering.

He assured that such a heinous crime will never occur again in the village .

The burial service is currently ongoing at the forecourt of the State House in Accra.

He will be buried at the Osu Military cemetery, Accra.
The late soldier was gruesomely murdered by irate youth in Denkyiraboase who mistook him for an armed robber.

About 47 suspects have so far been arrested in connection with his death.