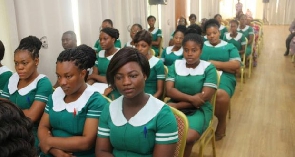 A group of nursing trainees in the Bono East Region has begged for forgiveness from the presidential candidate of the National Democratic Congress (NDC), former President John Dramani Mahama.
Addressing the crowd at one of the events as part of Mahama's #BuildingGhana Tour of Bono East Region, one of the nurses who was reading a petition on behalf of the group said that they erred when they rejected policies of the former president prior to the 2016 elections.

She indicated that they were deceived into voting for the running New Patriotic Party (NPP) with promises which they claimed have now turned out to be lies.

"Your Excellency we were presented with what seemed like a free virgin, only to be presented with 'a born eight times over'.

"How naïve it was for us to place our trust in them despite warming that fall of our deaf years. Please accept our unreserved apology for not hiding your advice during the 2016 election, from the depth of our hearts, we sincerely apologise," she said.

She added, "As stated in the Bible of John 20:23; Jesus Christ said if you forgive our sins, their sins would be forgiven and if you don't forgive them, their sins would not be forgiven. Your Excellency, we seek forgiveness for our transgressions… we beg you; we did not do well, we are pleading with you".

Watch the remarks of the nursing trainee below:
We are sorry, please forgive us for rejecting your student-loan proposals in 2016 - Nursing Trainees tell Mahama#AdomNews#adomtv

Strongman Xandy Kamel Kwesi Arthur Atta Poku Hopeson Adorye #YearAbroadWahala Cristiano pic.twitter.com/UiGwdqKdZy

— Adom TV (@adom_tv) November 20, 2023
BAI/NOQ
Watch the latest episode of Everyday People below:
Ghana's leading digital news platform, GhanaWeb, in conjunction with the Korle-Bu Teaching Hospital, is embarking on an aggressive campaign which is geared towards ensuring that parliament passes comprehensive legislation to guide organ harvesting, organ donation, and organ transplantation in the country.