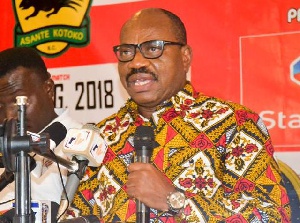 Certain Hearts of Oak supporters started a "No more friendly games against Kotoko " campaign after seeing some Phobian fans arrested for allegedly vandalizing stadium seat at the Babayara sports stadium when Asante Kotoko defeated Hearts of Oak 2-0 in second leg of the Super Clash.
"We don't want any more friendlies against Kotoko. We have told our management to reconsider that and we mean it" Supporters spokesperson Paa Kofi Sunsum said after the Super Clash.

"This is is not because we fear them but we feel things have gone beyond the rivalry boundary between us. The referees continue to cheat us when we play such games in Kumasi" Sunsum added.

Also one of the staunchest Hearts of Oak supporters in the Ashanti region – Abbas – echoed Sunsum's stance questioning why
"Most of the times that hey, Kotoko fans, misbehave they are are not caught but look at what is happening now. Our supporters were arrested and molested by the security. Enough is enough now." Abbas said.

But the new Chief Executive Officer of Kotoko – Mr. George Amoako – has responded to these unofficial statements that the Porcupine Warriors can make do without Hearts of Oak friendly exhibitions.

"I have heard that Hearts of Oak are saying they won't play us again for friendlies. Thats fine but we can make do without them (Hearts of Oak) if they say they won't play us anymore in friendly games. Who needs who the most now? It is them. In anyway there are the likes of Ashantigold, Medeama, Karela, Aduana and we can be playing against these sides." Amoako told Sikka FM.