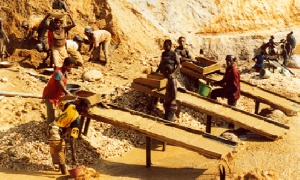 The Eastern regional Minister, Hon. Eric Kwakye Daffour has bemoaned the negative impact of 'galamsey' especially on water bodies.
According to him, the main water body in the Eastern Region, Birim, has been polluted. He said plants in Kyebi which were meant for water treatment in the region was shut down due to pollution of the Birim river.

The fight against 'galamsey', he noted is a collective responsibility of every one including traditional authorities.

Government he indicated will roll out workable policies to manage the situation adding, if efforts are not employed to preserve our water bodies, then we will be in for serious trouble. The greater percentage of the population still do not have access to water due to the problem, he lamented.
''The increasing spate of illegal mining activities across the country is worrying.

The recent water crisis in the country is as a result of 'galamsey'. The problems caused by the activities of 'galamsey' are alarming but we are committed and have the political will to deal with it. "The water shortages that we are seeing across this country are very much linked to activities of 'galamsey' in the communities of many water bodies in this country,'' he noted.