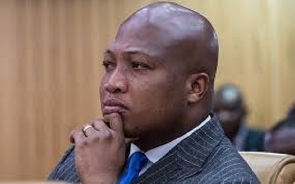 The Member of Parliament (MP) for North Tongu, Samuel Okudzeto Ablakwa, has refuted allegations that he owns two illegal businesses which do not pay taxes to the Ghana Revenue Authority (GRA).
The North Tongu MP was accused of running two unregistered companies that are owing taxes to the tune of over GH¢90,000.

The allegations were contained in a letter transmitted to the Commissioner-General of the Ghana Revenue Authority (GRA) demanding a probe into the legal status of the two companies and their tax liabilities.

The petition dated February 14 was authored by a group known as The Movement for Justice - Ghana, and signed by its convenor and a member Kwaku Takyi Adomako and Paa Kwesi Nimfah-Davis, respectively.

Reacting to this in a tweet shared on Friday, February 17, 2023, Ablakwa said that the allegations are mere fabrications by corrupt people he has been exposing.

He added that he does not own the said companies, nor does he owe the GRA, taxes.
"Discerning Ghanaians know crime & corruption are fighting back. Treat that phony group with utter contempt. I do not owe taxes, nor am I operating any business or farm.

"The GRA has not issued any demand or tax default notice directed at me. We cannot be intimidated!" the MP's tweet read.

Ablakwa's unregistered companies:

The two companies, the group alleges Ablakwa was operating included solely-owned Volta Klenam Farms and Industries Ltd - allegedly incorporated in 2021.

The second company is Savvi Solutions, where Ablakwa is listed as CEO, as per his employment history on Parliament's official website.
The letter titled: TAX LIABILITIES OF HON. SAMUEL OKUDZETO ABLAKWA, read in part: "I would like to bring to your attention that Savvi Solutions, a business of which Mr Ablakwa was a Managing Director, according to the website of Parliament, was never registered with the Ghana Revenue Authority and has not filed any returns or paid taxes during its period of operation. I request that you confirm the accuracy of this information and take appropriate action.

"Furthermore, I would like to bring to your attention that Volta Klenam Farms and Industries Ltd, a company solely owned by Mr. Ablakya, incorporated in September 2021, is not registered with the Ghana Revenue Authority and has not paid taxes since its incorporation."

It continued: "I would also like to bring to your attention that Mr. Ablakwa has a tax liability Of GH¢96,076.16 that the Ghana Revenue Authority has failed or neglected to collect. I kindly request that you take the necessary steps to request Mr. Ablakwa to pay his tax liability immediately.

"It is of utmost importance that the tax compliance of Hon. Samuel Okudzeto Ablakwa, as a Member of Parliament for North Tongu, be observed and upheld, as it serves as a model for the general public," the letter added.

View the MP's tweet below:
Discerning Ghanaians know crime & corruption are fighting back.

Treat that phoney group with utter contempt. I do not owe taxes neither am I operating any business or farm.

The GRA has not issued any demand or tax default notice directed at me.

We cannot be intimidated!

— Sam Okudzeto Ablakwa (@S_OkudzetoAblak) February 17, 2023
You can also watch this episode of People & Places on
GhanaWeb
TV below:


IB/SEA