We can't keep quiet and allow the architects of the crass incompetence to remain at post - Agbodza tells Adei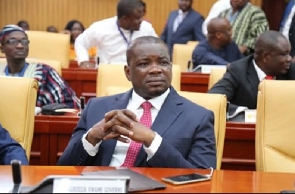 The Minority Chief Whip Kwame Agbodza has responded to the call by Professor Stephen Adei, on the minority, to relent on their demand for the removal of Governor of the Bank of Ghana (BoG), Dr Ernest Addison.
Kwame Agbodza indicated that the minority as a party will not stay silent while the architects who are mismanaging the economy are still in office.

Professor Adei earlier indicated that the minority call for the resignation of the Governor of the central bank in response to the GH¢ 60.8 billion losses in 2022, does not have grounds.

However, reacting to the comments by Prof Adei, Kwame Agbodza said that the worse has happened under Dr Addison and getting him out of office will rather restore the economy.

"Prof. Adei strangely believes that the resignation of the BoG Governor and his team which has caused this bankruptcy and contributed largely to the untold hardships Ghanaians are experiencing, will bring a 'gargantuan problem' to our currency and lower confidence in our economy. For his information, the worse has already happened no thanks to the clueless mis-managers at the Bank of Ghana, led by Governor Addison who has aided and abetted the destruction of the Ghanaian economy by this Akufo-Addo/Bawumia NPP government.
"What Prof. Adei fails to address his mind to is the fact that we are already in a gargantuan mess, and the most reckless and irresponsible thing to do is to keep quiet and allow the architects of this crass incompetence and mismanagement to remain at the post. This will be the greatest disservice to our nation!" he said.

Kwame Agbodza further criticised individuals like the professor for prioritising their political party's interests over the well-being of the country, terming this perspective unfortunate and self-serving.

"The likes of Prof. Adei are not interested in saving the collapse of the country but are more interested in saving their political party. That is most unfortunate and self-serving," he added.

NW/WA