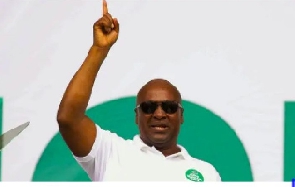 Former President and aspiring flagbearer of the opposition National Democratic Congress (NDC), Mr. John Dramani Mahama has urged members of the NDC to do all they can to win the 2024 election.
According to him, losing the 2024 election would have dire consequences for the party and therefore members have to do everything in their power to ensure that they win the next election.

Also, he said to win the election, the party must guard against rigging in the 2024 election.

He said this while touring the Eastern Region as part of his campaign geared toward the NDC's upcoming Presidential and Parliamentary Primaries.

Mr. Mahama also used the opportunity to explain to the public that his 'Do or Die' affair statement in connection with the 2024 election does not mean people should pull weapons.
Rather, he said he meant that the NDC must work hard and not allow any form of cheating during the election, expressing hope that if the 2024 election is free and fair, the NDC will win.

"When I say the 2024 election will be do or die, when you look into the English dictionary, it means something very critical that you have to risk everything to prevent failure, that is what is called do or die," he said.

Mr. Mahama continued," When I say do or die, some people say I mean we are going to take bows and arrows and cutlasses to butcher people, that is not it. Do or die does not mean so, everyone should go and pick their dictionaries, those who misquote me should go for their dictionaries and read the meaning of do or die because our party's future depends on it, we cannot lose this election, the implications are going to be very dire for our party, and so we are going to work hard and make sure we win the election. We are not going to give any space for any cheating because I know that if the election of 2024 is free and fair, NDC will win it."