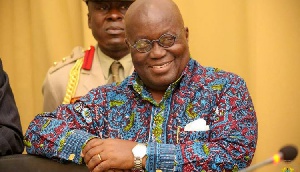 Brigadier General Joseph Nunoo-Mensah(rtd) has waded into the controversy surrounding the building of a national cathedral.
He says the decision must be given a second thought.

According to the former National Security Advisor, Ghana does not need a national cathedral now when the people are suffering.

He was emphatic that, "The leadership of this country, both NPP and NDC do not think about the people who voted them into power."

"What do we need national cathedral for now, don't we have places of worship in this country?" he questioned in an interview with NEAT FM's morning show 'Ghana Montie'.

The Nana Addo-led administration has sparked controversy and has come under a barrage of public criticism over the decision to build a national cathedral at Ridge, one of the most prominent areas to reside in the capital.
The criticisms has intensified after it emerged that several buildings including the Scholarship Secretariat, Passport Office at Ridge and nine bungalows occupied by Appeals Court Judges are to be demolished as government is set to begin the construction of the cathedral.

Scores of other structures within that enclave including the Judicial Training School are also expected to be pulled down to make way for the 5,000-seater state of the art cathedral which will also include a Bible Museum and a Documentation Centre.

But the outspoken former National Security Cordinator said government should rather concentrate on the ailing economy than building a place of worship for 'hungry souls'.

"Who said we want to worship God when we are hungry. We can't serve God with an empty stomach. Let's do the right thing first," he told host Kwesi Aboagye.