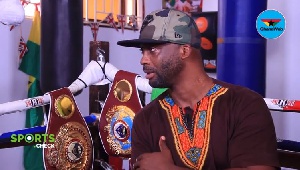 Paul Dogbe, the father of Ghanaian boxer and former WBO Super bantamweight Isaac Dogbe has denied ever consulting a juju man ahead of his son's second title defense with Mexican boxer Emmanuel Navarrete.
Isaac Dogbe after winning his first 20 bouts to become the WBO bantamweight title lost his belt to Emmanuel Navarrete in a back to back fight within a year.

Paul Dogbe was quoted in an interview with Accra based Joy FM to have said "We were bringing a stool that hasn't come back to his throne yet. When you are repairing all these things they have to be doing certain rituals and things and we've done all that."

"But when the prophet told me that, Paul, things will not be well and I told my son that this fight, the juju people say we going to knock Navarrete out in round two and the prophet says this cannot be."

But in a sharp rebuttal, Paul has said people have taken his interview with Joy out of context and that they didn't go for consultation from any juju man (black magic) before the bout.
In an interview with Ghanaian Times, he gave a narration of what happened in his hometown before his son's title defense bout with Emmanuel Navarrete.

"When we won the WBO world title, we went to our royal house, that is the Togbe Badu Royal House in Anyako, for a visit upon which I realized that the whole place was virtually in shambles. So, as the heir to the throne which became vacant for 16 years ago, I decided to renovate the place."

"In my family, the Christians are 90 percent and the rest are not Christians. As I was putting things in order, those who were helping me said, 'for not abandoning your roots, your son is going to win in round three but I told them boxing is not about these things and that they should not distract us with it."

"They kept on insisting so I remained quiet and after the bout, I asked them whether there is nothing as powerful as the power of God almighty and the right training "he concluded