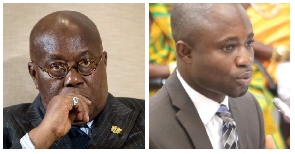 The Member of Parliament for Juaboso Constituency in the Western Region, Kwabena Mintah Akandoh, has lambasted the Nana Addo Dankwa Akufo-Addo-led administration for pursuing misplaced priorities.
Speaking in an interview with Neat FM on February 24, 2023, the lawmaker said even though the Ghana Health Service has reported a shortage of routine child immunisation vaccines, the government is instead investing millions of cedis in the building of the National Cathedral, which he claims shows a complete lack of priorities.

"Why do we have to wait to get a shortage of the vaccine before we will come and announce that, there are no vaccines for about six, two or three months?

"Sometimes when you hear things like this and if you don't take care you might end up saying something that will bring issues. It is very serious, first; it was in only the Northern part of the country (vaccines shortage), and now it is getting all over the country.

"What I want to assure everyone is that when we are talking about a global pandemic or disease, we all need to be worried and concerned.

"Sometimes it is very sad, the kind of life that we expect, you don't have vaccines but you're saying you want to build a Cathedral.

"Does it make sense? Are we human beings? the children of this country are dying and you're saying you want to build Cathedral," he lamented.
He continued by saying that the government must take proactive steps to meet all of the needs of the health sector. He also said Parliament's committee on health will ensure that they handle all national health issues.

The Ghana Health Service (GHS) has assured that the routine child immunisation vaccine would be available in two weeks.

The Director-General of GHS, Dr Patrick Kuma-Aboagye explained that efforts are underway to restock the vaccines in an interview with Citi FM.



Watch the latest edition of BizTech and Biz Headlines below:




Watch the latest edition of Business Moments below:





AM/SARA