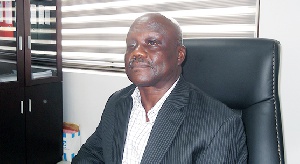 A former non-executive director of uniBank Professor Newman Kusi says shareholders of the bank are still not clear in their minds over why the bank was taken over by the Central Bank.
According to him, the Bank of Ghana has not yet provided copies of the KPMG report that purports to expose wrongdoing in the operations of uniBank to the shareholders.

"The shareholders of the bank asked for a copy of the report. It took 10 days for the BoG to respond to the shareholders request. The BoG later told the shareholders that there was no way they could give them copies of the report. The shareholders wrote to the BoG asking for a copy of the report on the 3rd of July. The BoG responded to the letter on the 23rd of July.

"As we speak, the shareholders have not received the report but we are seeing some documents circulating on social media. It is alleged that the documents are excerpts of the KPMG report. We totally object to the collapse of UniBank. As we speak, the shareholders have not been told why the bank was collapsed," Prof. Kusi told sit-in host of the Morning Starr Kwaku Obeng-Adjei Monday.

Meanwhile, Starrfmonline.com has intercepted a report addressed to the governor of the Central bank by KPMG in which the audit firm told the Central Bank that they did not audit uniBank.


"As stated in our engagement letter unless otherwise stated in the report, we have not sort to verify information contained herein or performed procedure necessary to enable us express an audit opinion on any of the financial or non-financial information contained in this report. Accordingly, we cannot and do not express an audit opinion on the information contained in this report".

The letter stressed: "We have not obtained formal confirmation from employees of the bank that they have made available to us all significant information relevant to our report which they have knowledge of. Accordingly, we are unable to determine the extent to which information and explanations provided to us are complete and accurate and the report should be read in that context".

That notwithstanding, the Central bank went ahead and merged uniBank with four other banks to create the Consolidated bank Ghana limited.